With so many different colors & options do you ever wonder what your trophy is actually going to look like?  At Gem Awards we try to ease this frustration through our 3 step online ordering process that allows you to build your own trophies on screen!  Keep reading for a step by step tutorial.
Step 1: Choose a Size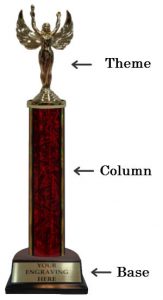 With our one column trophies you can pick between 4 different sizes.  (Trophy with No column, 3" column, 5" column or 7" column)  This makes it easy if you want 3 different sizes for varying places or event categories.  Once you've decided on a size, you'll be redirected to the visual display and customization page for the product.
Step 2: Customize your Trophy
You can now start designing your trophy by picking your topper theme.  You can choose between 15 different sports themes as well as other generic themes to find a fit for your event; however, if you don't see the topper you want, drop a comment below or contact Gem Awards for more information.
Next, select your column color.  We offer 11 different color options that fit most team and school colors; however if you want a specific color not shown, leave a comment below or contact us for more details.
The Last option is selecting your trophy base color.  This is where the visual editor is extremely helpful.  To make sure your column color and base color look good together, just click the options and wait as an image of the trophy is generated for you.  Trophy Bases come in 3 varying color styles and each add a different look to the trophy.  Black marble bases add elegance to column colors, wood grain gives a traditional look, and white brightens colors for a fun, eye-catching trophy.
Step 3:  Add Engraving
This is probably the best part when you build your own trophies through Gem Awards.  Engraving is always FREE!  You don't have to worry about paying for each letter or per line.  We want you to build your trophies how you want and to not have to worry about character restrictions. Type the engraving in the fields provided and then add to cart. Congratulations you've just built the perfect trophy in 3 simple steps.  Now all you have to do is find your easy button!
In Conclusion
Build your own trophies with our on-screen builder in 3 simple steps.
Choose a Size
Customize
Engrave
Enjoy free engraving and options when ordering.  No more worrying about character restrictions or paying for premium colors or themes.  If you see a way we could make this process even better, leave a comment below.  For additional theme and color options contact Gem Awards.
Looking for Bigger Trophies?