Top 10 Best Personalized Wine Glasses
(Stemless)
The perfect wine is only complete will being drunk from an equally special glass.  The finest wines have a character all to themselves and so do each of these glasses below.  Although there are hundreds of custom wine glasses, here are our Top 10!
1.  The "O" Series Stemless Wine Glass
Designed and manufactured in Germany, these etched wine glasses come in a matching set of 2.  If you desire to drink the best wine, from a luxury glass, then look no further than the O series stemless wine glasses.
At roughly $50 per glass, these are not for the weekend wine drinker, but rather for the connoisseur.
2.   15 oz. "Perfection" Wine Glass
Though nothing is perfect, these logo wine glasses are pretty close!  Each glass can be personalized with your logo or text and will cost you as low as $3.84 per glass.
Made in the USA, turn around time is extremely fast.  7-10 days normal production with optional rush services available.
3.  White Wine Glass Thank You Set
Nothing says "Thank You" like the perfect glass of wine.  This 15 oz. set of 4 stemless glass set comes with a thank you themed gift box.
Perfect for as company gifts, houswarming christmas or any other occasion.  At just $20 for a set you just found the perfect affordable gift set!
4. 15 oz. Etched Wine Glass (Stemless)
This custom wine glass provides the best value.  At just under $15 per glass, you'll walk away with a luxurious feel.
With high quality laser etching, glasses can be washed in a dishwasher with no alteration to the imprint.
These glasses are built to last a lifetime.
5. "Glitter Galore" Serving Set
You're the Star of the wedding, but a close second will be this "Glitter Galore" cake knife and server set.  It sparkles under the lights and adds a fun element to any wedding.  The handle is made up of dozens of inlayed crystals that sparkle in almost every direction.  This set is for a "Super Stars" Wedding!
6. "Double Hearts" Serving Set
This is a great affordable wedding cake server set.  The handle has a beautiful streamlined look with open interlocking hearts at the end.  The hearts are brought together in an overlapping fashion to symbolize a perfect union between husband and wife.  The blades on the knife and the server have a light serrated edge to make it easier for cutting.  A beautiful set for a beautiful couple.
7. Simple Heart Handle & Heart Cake Server
This very simple designed wedding cake server has a beautifully designed wedding server that is in a perfect heart shape.  The handles have embossed hearts into the ends that add to the simplicity of the handle.  The cake knife has a slight serrated blade to make it easy to cut through even the richest of cakes.  This set is a great way to show your love at the cake cutting ceremony!
8. Westwood Wedding Knife and Server Set
Number 7 comes in with the Westwood Wedding Knife and Server Set.  This highly polished set is very affordable!  Coming in at $49.95 with free personalization makes it the perfect go to set on a budget.  The set goes with any weddingd decor and can be added to by tying ribbon or lace around the handles.  Each handle has a sleek hourglass design that fits perfectly in your hand.  The straight edged-pear shaped server adds a unique dimension to the traditional server style.  Serrated Blade on Knife.
This unique server set blends ruggedness and elegance into one piece.  The hammered handles are one of a kind and add a truly unique texture.  The two toned (Gold & Silver) metals make it easy to match any wedding colors while adding a touch of gold.
At $79.95 it's one of the more expensive cake sets, but with free personalization and quick shipping, it makes it onto the list as Number 9.
10. "Elegant Crystals" Serving Set
The last of our top 10 best wedding cake server sets is the "Elegant Crystals" Server Set.  This is a truly timeless piece. Each handle is molded into a beautiful hourglass shape with a dished face.  The ends boasting a heave round edge and the top featuring several inlayed crystals to make it really shine.
Moderately priced at $59.95, this cake server and knife set are sure to look good at any cake cutting ceremony.  Free personalization and gift boxed, makes this a great find!
We'd love to hear your feedback, Leave a comment below.
What was your favorite style of cake set
Gold or Silver?
You May Also Be Interested In: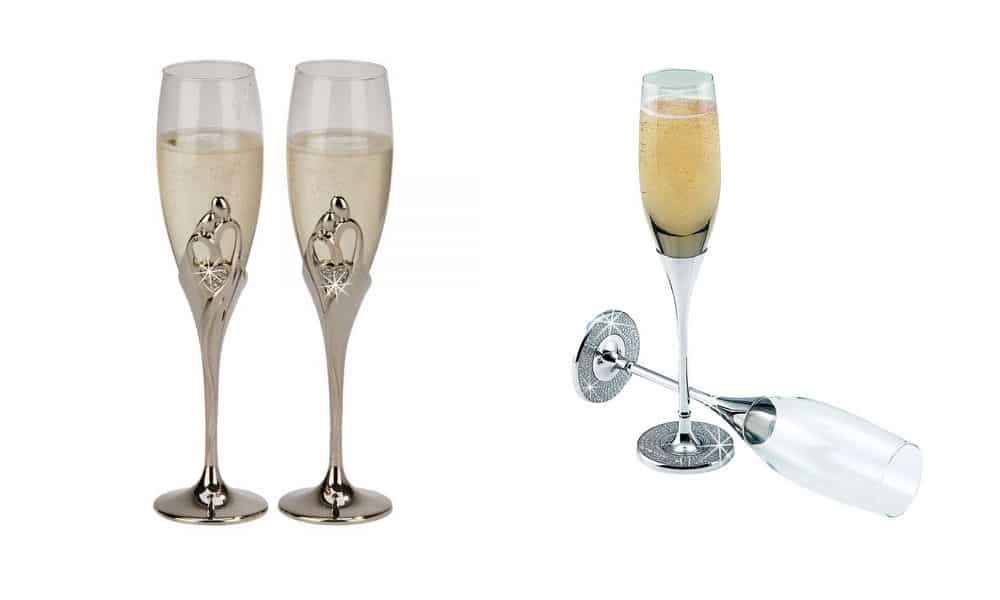 Best Wedding Glasses & Toasting Flutes for the Big Day
See the top 5 Wedding Glasses & Toasting Flutes we offer.  Glasses come in a beautifully satin lined gifts box.
Read More: