5 Best Wedding Glasses & Toasting Flutes for the Big Day
1. "Embrace" Wedding Flutes
These "Embrace" Wedding Flutes are a stunning pair of wedding glasses.  The bases extend upward and mold into a beautiful couple embracing to form one large heart.  A second smaller heart is inlay-ed with crystals to create the perfect amount of sparkle to these glasses.  Measuring 10.5″ tall these are sure to be a focal point for your wedding ceremony.  At $69.95 these are by far the most popular wedding flutes out there!  They're great for the big day & for a lifetime thereafter.
Another beautiful pair of wedding glasses under $75.00 is our pair of "Forever" Wedding Flutes.  The stems have a long sweeping line extending up from the base of the glasses connecting an elegant double hearts pattern.  The hearts seem to be embracing and are inlay-ed with crystals on the sides for a truly special look.  With a gold finish to the glasses they are truly perfect when matching wedding colors with gold accents.  This pair of glasses is sure to last a lifetime and start a couple on their journey to forever!
A blend of rustic and elegance come together with these one of a kind "gold hammered" wedding glasses.  The pair has a sleek slender stem rising up from a tapered base towards a band of gold that has a light hammered look to it.  The glasses have a very modern feel to them and are perfect for any modern wedding, but are also great as rustic wedding pieces.  At $69.95 these glasses are a great way to add to your wedding day without taking away from your wallet.
"Plain & Simple with a touch of grace."  That's what we were going for with the cyrstal studded flute glass pair.  The bases are nearly flat, but have a slight taper and extend upwards on very dainty, yet sturdy stem that tapers towards a ring of crystals connecting the flute glass to the base.  It's an absolutely stunning pair of wedding glasses and at $59.95 you can't go wrong with them.  Try adding a little ribbon or lace to personalize them for your wedding colors.
Last, is our split heart base wedding goblet pair.  The pair symbolizes two people coming together and being united into one.  Each glass is mounted onto a half heart stem and base so that when they are put together they complete both hearts.  They come in a satin lined gift box and are ready to turn heads at your wedding.  For $59.95 you can't pass up these beautifully designed wedding goblets that will last as a keepsake long after you've said the words "I do."
You May Also Be Interested In: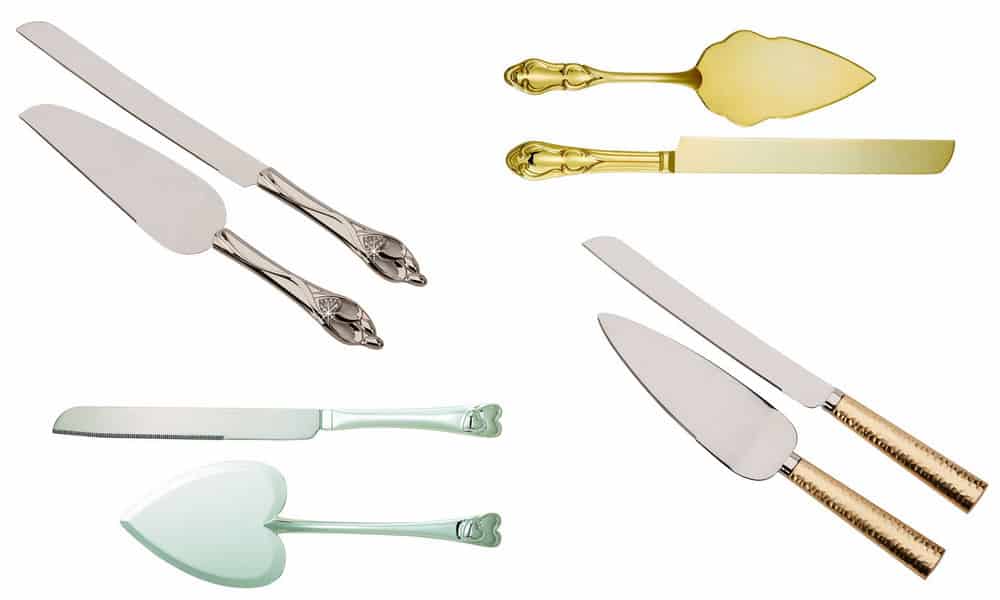 11 Best Wedding Cake Server Sets
The best wedding cake server sets to start you on your journey to forever.  With free personalization these are a great bridal shower gift.
Read More: