Have you ever wondered what the best style of missionary plaque is?  In this article we're going to highlight two of our favorite styles and why they're great for honoring your past, present & future missionaries!
Diamond Engraved Missionary Plaque
The diamond engraved missionary plaques from Gem Awards are the best value.  The plaque only costs $29.95 or $34.95 if you want us to insert your missionaries photograph for you.  We say this is the best value because there is NO additional charges for engraving.  This is great for any plaque, but especially for missionary plaques.  We can usually engrave 1-3 verses of scripture on the plaque which could rack up a large engraving charge if we charged the industry standard of $.25 per character.
The missionary plaque comes with two engraved plates, each of which are back-plated with a gold plate to make the engraving stand out.  The corners are notched on all of the plates and make it look really professional.  The picture size is 4.25" x 3" and is the normal missionary plaque picture size.  It can be an unusual size for many people and this is why we recommend you let us size, print & insert your picture for you.  The picture is protected under an acrylic plastic piece attached with screws for easy access to the picture.
The last thing that makes these missionary plaques really special is they are finished off with a hand-cut representation of the country/state the Elder or Sister will be serving in.   All the separate parts are mounted on a walnut board to give a classic look that never goes out of style.
Full-Color Missionary Plaque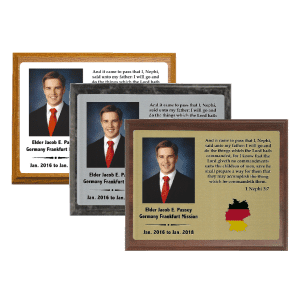 The next missionary plaque style we want to look at is the Full-Color Missionary Plaque from the LDS Missionary Bookstore.  This is a unique, modern twist on the traditional missionary plaque.  The engraving is sublimation printed onto your choice of gold, silver or white metal and is then attached to a walnut, oak or black marble board.  We like how many options of customization they give you so you can create the perfect plaque for any missionary.
The finished missionary plaque will run you $34.95.  This includes the picture.  For this style, you have to upload your picture to them because it is printed directly onto the metal.  The only downside is that the picture is not interchangeable like the other missionary plaque we looked at.  But, if you've got a good picture of your missionary you shouldn't have to worry about that.
We like this missionary plaque also because they don't charge for engraving per character.  It is a flat rate so you don't have to worry about which scriptures to put on the plaque.  Just remember the longer the scripture, the smaller the text will be.
In Conclusion
The diamond engraved missionary plaque is a great value and gives you a very classic, professional look.  The full-color missionary plaque is modern and sleek in its design.  Both plaques offer free engraving and multiple options for customization.  You can't go wrong with either of them.
Did you know that most wards will reimburse you for your current missionaries plaque?