Teacher's Retirement Gift, Years of Service Awards, or Appreciation Gifts – These custom engraved brass hand bells are the perfect gift for teacher appreciation!
Why Order Brass Hand Bells from Gem Awards?
If you're looking for the perfect teacher appreciation gift, look no further!  We're introducing our new engraved brass hand bells to our website.  We've been engraving brass bells since 1988 using traditional rotary diamond drag engraving.  We're the leading rotary engraving specialists in Utah and our engravers have over 60 years of combined experience.  With the recent industry push towards laser and UV engraving, rotary engraving specialists are becoming harder and harder to find.  At Gem Awards we believe in the investing in modern engraving processes, while maintaining the quality of our traditional diamond drag engraving.  Because there's just some things that can't be done unless you have a diamond drag engraver – Engraving brass bells is a perfect example of that!
Quality Engraved Brass Bells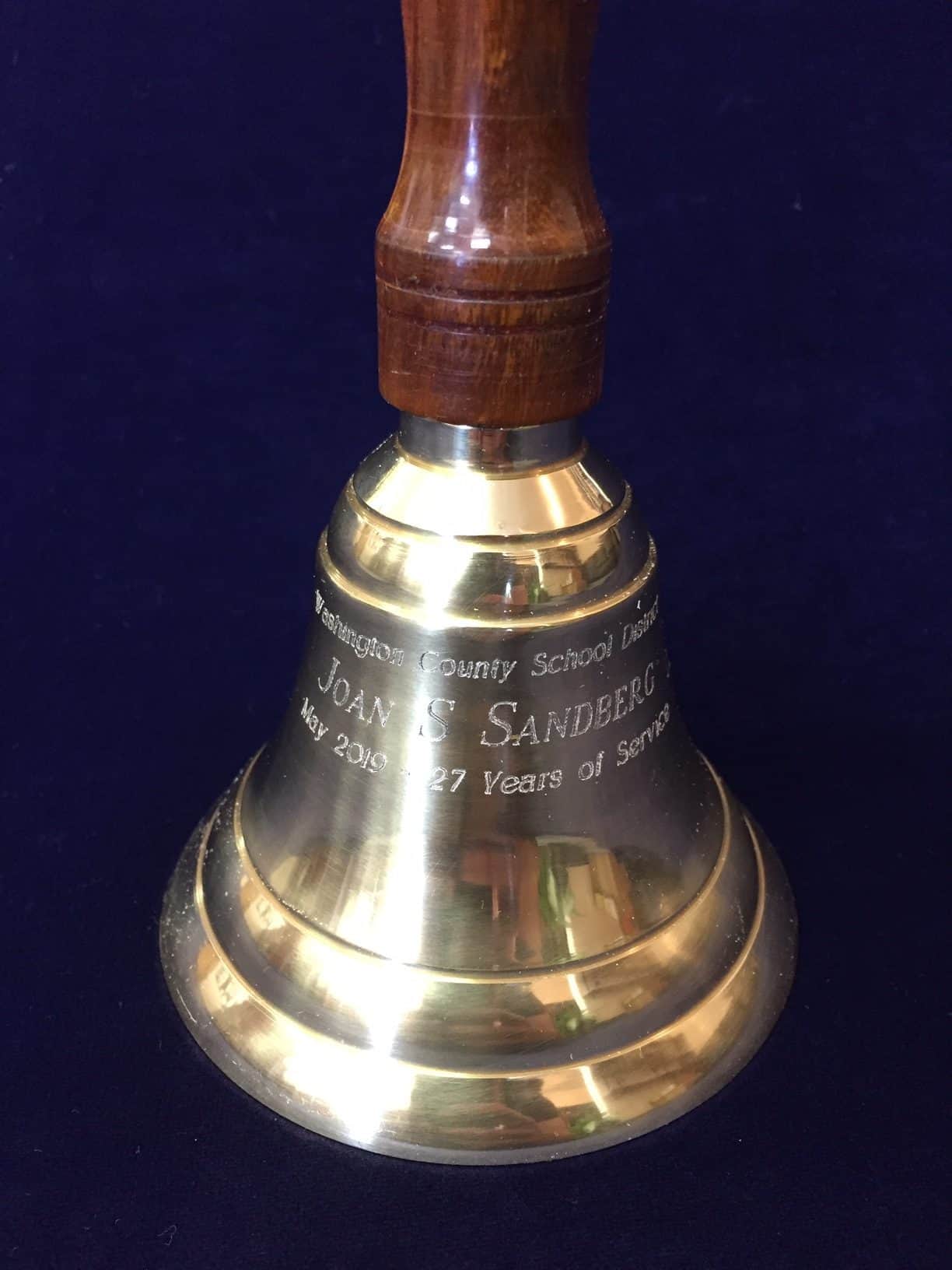 At Gem Awards, we pride ourselves on providing our customers with the best products at the cheapest prices.  We work hand in hand with our suppliers to ensure the best quality products possible.  Each of our online products have been long-standing favorites of our local customers and now our engravable brass bells are sure to become one of your favorites as well.  The hand bells are made of solid brass and are securely fastened to a solid wood handle.  Each bell has a high polish finish and a veneered wooden handle.  The bells are then diamond engraved to produce a stunning traditional look – for a truly timeless gift.
The Perfect Gift for Teacher Appreciation
For over 30 years these engraved brass hand bells have been the #1 choice in teacher appreciation gifts.  Whether engraved or not, they are a very affordable way to say "thank you" to any teacher.  With an engraved inscription the bells become truly one-of-a-kind.
A Great Retirement gift for Teachers
We currently provide several school districts with "retirement bells" – engraved brass hand bells given to retiring teachers with the name of the school district, teacher's name and years of service.  With the timeless symbol of a school bell, there's really no better retirement gift for teachers.  If you're in charge of getting retirement gifts for teachers then look no further!  We pride ourselves on supplying the absolute best products at the best prices.  You're guaranteed to receive the lowest price from us.  If you find an engraved brass hand bell for a lower price, please don't hesitate to contact us – we love to bid on all teacher retirement gifts!
Engraved brass hand bells make the perfect gift for any teacher.  Whether given as a retirement gift for teachers or as a teacher appreciation gift, they are sure to love this timeless symbol of education.  All of our engraved bells have been selected based on their quality and price and are sure to provide you with the best brass bells are the lowest prices.  You can order bells engraved or unengraved.  All engraving is done using precision rotary diamond engraving.  If you have any questions concerning our brass hand bells, or any of our other awards for teachers fell free to reach out to us.