#1 Gift for IPO Celebrations
and
Bell Ringing Ceremonies
Is your company going public?  Are you looking for the perfect way to celebrate your IPO? 
Why not have your own personal bell ringing ceremony?

Dozens of companies have ordered our engravable brass bells to create a once in a lifetime celebration!  With 4 different sizes to choose from you're sure to find the perfect fit for any budget.

The Best Way to Celebrate your IPO

It's time to celebrate the biggest milestone your company will ever reach!
Many things have led up to this moment, and so many people have helped your company excel to the point it is right now.
You have hundreds of employees whose contributions each day have led to the success of your company.
You may have early investors who took a leap of faith to get your company off the ground in its early stages.
You have founders, family members and friends who have supported you on your journey.
Unfortunately, you only get ONE CHANCE to make this moment unforgettable.
With our engraved IPO Bells, your employees, investors, founders and friends will be able to participate in the bell ringing ceremony on the morning your stock goes public.
Why Order Individual Engraved IPO Bells?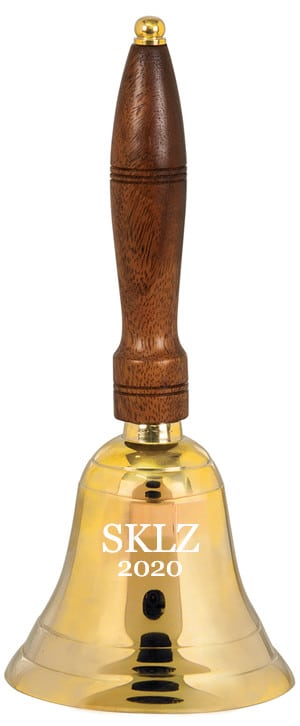 Not everyone will be able to participate in your bell ringing ceremony. 
The NYSE recommends that only 8-10 people be on the podium when the bell is rung.
A few additional people may be allowed to be present on the trading floor, but no more than 50 people are allowed to be present.
The Nasdaq stock exchange has similar rules for who can be present at the bell ringing ceremony.
So….How do you involve everyone in this iconic event?
We specialize in providing high-quality individual engraved IPO bells for employees who may not be able to be present on the trading floor.
This allows each employee to feel valued as the company makes this huge step.
In the last year alone, we have provided thousands of bells to dozens of companies striving to involve employees in the IPO celebration.
Here's what a few of them had to say.
"We wouldn't be where we are without our employees.  We wanted to recognize the great scientists, researchers and office staff we associate with every day."
"We thought long and hard about how to recognize our 600+ employees.  We are so happy Gem Awards was able to help us IPO in a way that was memorable for everyone!

"We have decided to keep the bell ringing alive in our company!  Now every new hire receives an engraved IPO bell in their welcome packet."
We love helping companies recognize their employees.  The importance of recognition is at the heart of what drives our business.
We believe that employees who feel valued are much more inclined to work harder, adopt company culture and focus on long-term company goals.
Employee Recognition is an investment.  It pays dividends in the form of reducing hiring costs, increasing employee motivation and maintaining high quality standards.
You can use your IPO to recognize your employees by giving them something that allows them to participate in the bell ringing ceremony – and something to remember what a huge milestone they were a part of.
Turnaround Time

We've worked under incredibly short time frames.  With Vaxxinity's IPO only days away were able to engrave 120 bells the next day. With next day air shipping, they arrived within 48 hours of placing the order.
Normal turnaround time is about 1-2 weeks for large orders, although we understand the time constraints you are forced to work with.
We encourage you to call us before you think we cannot fulfill your order.  Chances are, we will be able to work you into our schedule.
How to Order?

There are multiple ways to order your engraved IPO Bells.  Once your order is placed, you will work with an engraver to ensure you know exactly how your bells will look before they proceed into production.
SKILLZ eSports for Everyone – SKLZ
Skillz is the leading mobile games platform that connects players in fair, fun, and meaningful competition. The Skillz platform helps developers build multi-million dollar franchises by enabling social competition in their games. Leveraging its patented technology, Skillz hosts billions of casual esports tournaments for millions of mobile players worldwide, and distributes millions in prizes each month.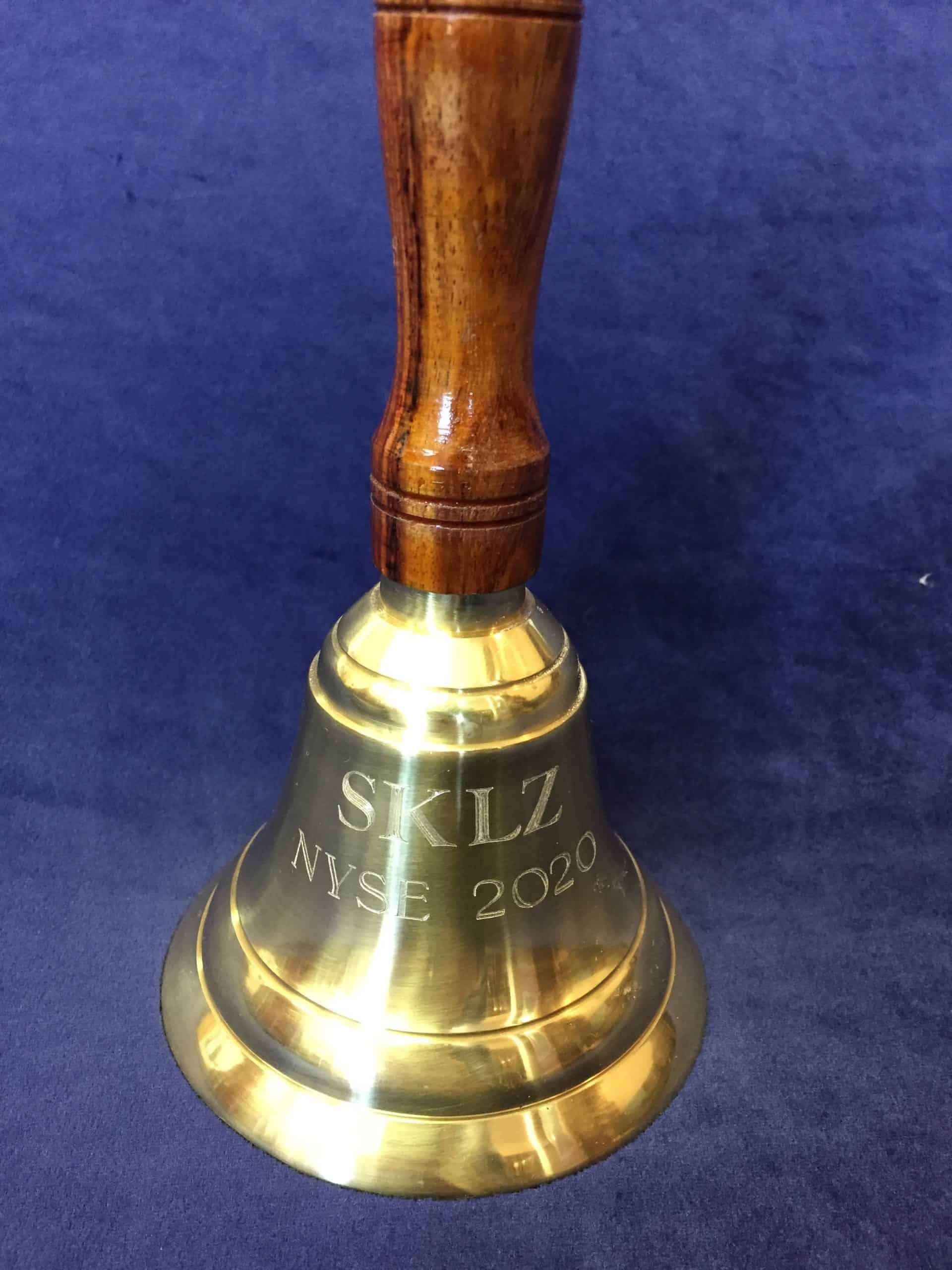 Order Details:
300 Medium Brass Bells:  One Side Engraved
Working on a quick time-table Gem Awards and Skillz were able to work quickly on a design concept and begin producing the bells the next day after placing the order.
After 7 days in production, hundreds of SKLZ bells were on their way to several households in various locations across the United States and Canada.
Sovos Brands invests in high quality food prospects with high growth potential.  Some of their most famous brands are Michael Angelos, Rao and Noosa.  Sovos Brands strives to provide consumers with experiences that are genuine, honest and unforgettable.
Medium Brass Bell & Large Brass Bell: Nasdaq Listed Logo Engraved
Quantity:  420 Large, 220 Medium
With only 15 days to the IPO, this order pushed our limits.  We finalized payment and engraving details the same day, and were engraving the very next day.  With the short turnaround time, we decided to laser engrave the bells which produced a rich, dark engraving for the logo.  All of the bells were engraved and shipped in 10 days!
NURIX Therapeutics – NRIX
Nurix was founded by a team of internationally renowned scientific experts in the E3 ubiquitin ligase regulation and structure field. Since incorporation, the company has built a seasoned team of leaders with wide-ranging backgrounds in small molecule drug development. Nurix is funded by leading life sciences investors and corporate partners and is headquartered in San Francisco, California.
With 4 different sizes of brass bells to choose from and nearly unlimted personalization options, you're sure to find something perfect for your company's needs.  Orders of 100+ bells qualify for a 20% discount.  Most large orders ship between 7-10 business days after payment has been processed.  Special shipping arrangements can be made upon request.