#1 Gift for IPO Celebrations
and
Bell Ringing Ceremonies
Is your company going public?  Are you looking for the perfect way to celebrate your IPO? 
Why not have your own personal bell ringing ceremony?

Dozens of companies have ordered our engravable brass bells to create a once in a lifetime celebration!  With 4 different sizes to choose from you're sure to find the perfect fit for any budget.

The Ringing of the Bell – The Stock Market Bell
Can you imagine the moment your company is listed on a major stock exchange – and then the bell rings!  Your stock is officially available to the public.  You're never going to forget the sound of that bell!
But, what if you could make it even more special?
Think of all the people who helped you get to this point.  Employees, Investors, Banks, Lawyers ect.  Imagine if you could involve each of them in the IPO celebration.  Well, that's exactly what several companies have done by ordering brass bells from us.  Whether you have a virtual celebration or an in person ceremony, everyone can ring their own bell at 7:00 am when the stock market opens and your stock is listed on the exchange.
SKILLZ eSports for Everyone – SKLZ
Skillz is the leading mobile games platform that connects players in fair, fun, and meaningful competition. The Skillz platform helps developers build multi-million dollar franchises by enabling social competition in their games. Leveraging its patented technology, Skillz hosts billions of casual esports tournaments for millions of mobile players worldwide, and distributes millions in prizes each month.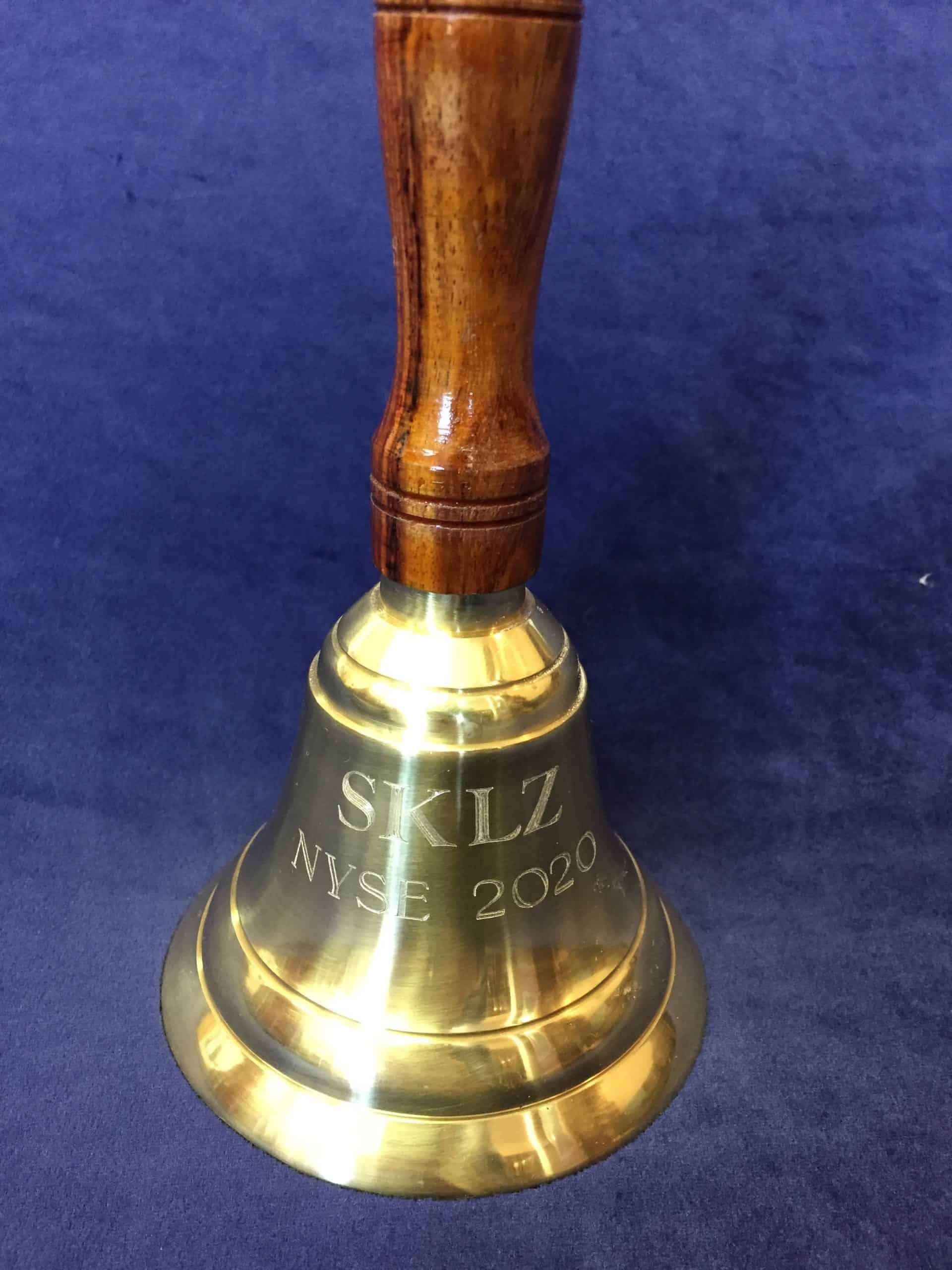 Order Details:
Medium Brass Bell:  One Side Engraved
Working on a quick time-table Gem Awards and Skillz were able to work quickly on a design concept and begin producing the bells the next day after placing the order.
After 7 days in production, hundreds of SKLZ bells were on their way to several households in various locations across the United States and Canada.
Sovos Brands invests in high quality food prospects with high growth potential.  Some of their most famous brands are Michael Angelos, Rao and Noosa.  Sovos Brands strives to provide consumers with experiences that are genuine, honest and unforgettable.
Medium Brass Bell & Large Brass Bell: Nasdaq Listed Logo Engraved
Quantity:  420 Large, 220 Medium
With only 15 days to the IPO, this order pushed our limits.  We finalized payment and engraving details the same day, and were engraving the very next day.  With the short turnaround time, we decided to laser engrave the bells which produced a rich, dark engraving for the logo.  All of the bells were engraved and shipped in 10 days!
NURIX Therapeutics – NRIX
Nurix was founded by a team of internationally renowned scientific experts in the E3 ubiquitin ligase regulation and structure field. Since incorporation, the company has built a seasoned team of leaders with wide-ranging backgrounds in small molecule drug development. Nurix is funded by leading life sciences investors and corporate partners and is headquartered in San Francisco, California.
With 4 different sizes of brass bells to choose from and nearly unlimted personalization options, you're sure to find something perfect for your company's needs.  Orders of 50+ bells qualify for a 35% discount.  Most large orders ship between 7-10 business days after payment has been processed.  Special shipping arrangements can be made upon request.