Everyone deserves to be recognized for what they do; whether that be Sponsors, Coaches or Teammates.
Save 10% with coupon code TEAM at checkout
The Versatility of Team Photo Plaques
Team plaques make great affordable awards for coaches, sponsors or team members.  The customizable plaques come in 7 different size options, 3 different plaque color options, and 3 different metal color options as listed below:  
Plaque Size:
4 x 6 Plaque
5 x 7 Plaque
6 x 8 Plaque
7 x 9 Plaque
8 x 10 Plaque
9 x 12 Plaque
10.5 x 13 Plaque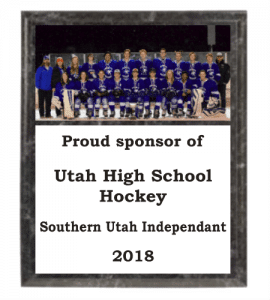 Everyone loves to get recognized for their contributions.  Even though sponsors may not say this, they love to have something to hang in their stores to show their support of the community.  These sponsor plaques are a cost effective way to show your appreciation to sponsors for their donation of time, money or expertise to your organization.  The plaque to the left is a customized 5 x 7 black marble plaque, with white metal engraved plate, and they walked out spending under $20.00.  Now, when you think of it that way $20.00 isn't that much to spend on most of your sponsors, but also think about the branding you could be getting from these sponsor plaques as well.  We already talked about how sponsors like to display plaques in their offices, and now you have your organizations name hanging in their waiting room or office.  It's a win-win for you, and the best $20.00 you can spend!
Coaches Plaques & Advisor Plaques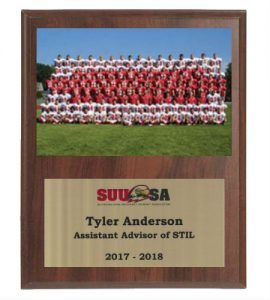 It's no secret that coaches and advisors play a huge role in helping our organizations.  They often volunteer many hours of their free time to pass on their expertise to aspiring athletes, students etc.  It's important when giving out your awards that you think of these individuals too.  These photo plaques make great appreciation plaques for coaches and advisors.  When calculating the cost of these plaques in relation to the time spent by coaches and advisors, it's a very small price to pay for their time and devotion.
Team Plaques for Athletes or Teammates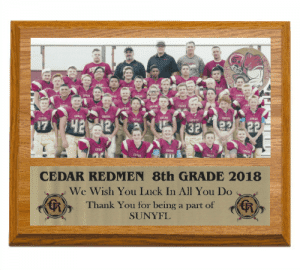 Did you know that most Athletes or Students don't get ANYTHING after they've dedicated an entire season or semester to their passion?  It's true, but it shouldn't be.  There are cost effective ways to recognize athletes and a great way to do that is with a team photo plaque.  This way they can remember their teammates, coaches and all the memories a long with it.  With our bulk quantity pricing it makes these plaques cost effective for the entire team.  For example, the team plaques above qualified for 20% off.  That's a deal that fits any budget.  The team plaques come in either a portrait or landscape style and all include all the options described above.
Check Out Our Two Styles of Team Photo Plaques
 Team Photo Plaques make great coaches plaques, sponsors places and appreciation plaques.  With so many options available as well as bulk quantity discounts, you're sure to design the perfect team plaques while staying within a reasonable budget.  If you would like to see any other options or have any comments leave them below or contact Gem Awards.