You spend money on advertising to acquire customers, but what are you doing to retain customers? Here's one example of how to keep customers coming back!
Background
I learned how to design web pages for my EDGE project at Southern Utah University.  I took this knowledge and built a small web design company, Gem Web Design.  I had 7 customers each paying monthly subscriptions for their websites.  I soon realized I needed to show each of them how much I valued them, but I didn't really know how.
I thought of everything!  I thought I could give them a free month of web hosting, or give them a discount on their next year of subscriptions, but none of these seemed very personal, and quite frankly, they were expensive options.  That's when I thought of giving each of them a personalized gift – In this case, a personalized polar camel tumbler.
Customers Want to Feel Valued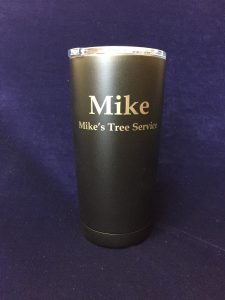 I decided to give each of my customers an engraved tumbler with their name and companies name on it.  I strategically planned to give it to them about a month or two before their subscriptions came up for renewal.  What did I find?  They all signed up to do another year of business with me!  Not only that, I got referrals from them!  They commented how nice and thoughtful the gift was, and said they would recommend their friends to me any time.  The personalized Tumbler only cost me $29.99, but earned me 20 times that through renewed subscriptions and referrals.
Use your Gift to Advertise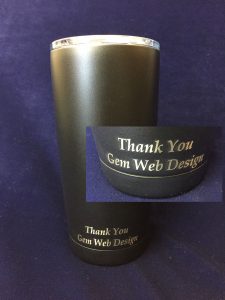 This is also a great way to get your companies name out there.  Look at my cups for instance…On the opposite side I engraved a simple message "Thank you – Gem Web Design."  This way, they see that every time they use the tumbler and when they're in public hopefully others see it as well.  This is a much better value for your money.  For example, I could have given them a deal for a month of free hosting ($50.00 value) and they would have been happy, but let's be honest, they would have forgotten about it the next day.  Since they have a personalized tumbler they are more likely too see that over and over again, each time thinking of my company.  It's a win-win for customer retention and strategic advertising.
Does it have to be a Tumbler?
NO WAY!  Depending on your clients there may be a better fit for them.  Silver Boxes are great for women, clocks are great as an office gift.  The possibilities truly are endless!  That's why it's so special – It's completely personalized.  The cool thing about personalization is the perceived value of the gift.  For example if you have a tight budget you could either give your customer $7.50 in cash (Woohooo!)  and they'll think you're extremely cheap, or you could give them a personalized key chain with their name on it, company logo or other engraving and they'll think you value them enough to give a meaningful, thoughtful gift.  Not to mention they might see it and your company logo every day!
In Conclusion
It's extremely cost effective and easy to retain customers through personalized gifts.  Customers will feel valued and the gifts often double as advertising.  For my example, an engraved tumbler cost $29.95 and made me 20 times that amount in repeat and referral business.  If you have any cool ideas for custom gifts leave a comment below.  If you have any questions please contact Gem Awards.  Keep reading for an in depth review of the polar camel tumbler.
Polar Camel Tumbler Review
Polar camel tumblers are a relatively recent style of the traditional vacuum sealed tumbler.  They come in a variety of colors and are made to be laser engraved.  The outer powder coated layer is durable and scratch resistant.  The tumblers come in 20 oz. or 30 oz. size options and both fit nicely in standard cup holders due to their sleek designs.  The Vacuum insulated walls keep hot beverages hot and cold beverages cold for up to 24 hours.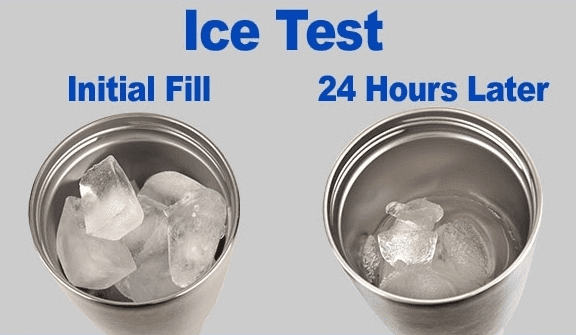 Each tumbler comes standard with a clear removable lid for easy cleaning.  The lid is designed for easy drinking and is also large enough for a straw.  Overall the polar camel tumblers are a great tumbler and the best tumbler to engrave.  Being designed for this purpose makes the engravings clear and sharp.  If you have anything to add to this review please comment below or contact Gem Awards.