10% Off – Use Promo BELLS
The Cancer Bell Ringing Ceremony
If you're around a cancer facility long enough, you might hear the ringing of a bell and sounds of excitement. The bell's sound is a celebration for cancer patients as they end their treatment at that facility. It signifies that the specific patient is going to start a new chapter of their lives. It's a sigh of relief for patients and families to hear this bell. For other cancer patients, it signifies motivation and hope that one day they might be able to ring that same bell too.
History Behind the Bell Ringing Ceremony
Where exactly did the bell ringing ceremony originate from? While almost every facility around the country has some type of bell, the first bell rang was in 1996 at MD Anderson. However, the real history behind the bell ringing tradition starts with the Navy.
The Navy's Use of the Bell
The ringing of the bells is a deep tradition used by organizations around the world. Bells were an easy way to communicate before cell phones or loudspeakers were invented. Organizations created bell codes that were unique to the unit or Navy, so not everyone could understand each of the bells' meaning. This allowed the Navy to communicate important messages without their enemies or everyday civilians catching on. Some of the most common uses for the bells included:
Tracking Time: Time at sea was initially measured by tiny grains of sand running through a half-hour glass. Once it was completely emptied, a ship-boy would need to turn it around to restart the count. Once he did, he would ring the bell to let others know that he had performed this task.
Communication Measures: On ship life, conditions were sometimes too foggy, making it difficult to see if there were any other boats around. To keep from running into another ship and causing damage, they would ring their bells frequently to alert other ships of their presence. Today, all ships at sea are still required to have a working bell for fog emergencies.
Alarms: If there was some type of fire or attack on the ship, bells were used to communicate this emergency to everyone.
Special Events or Ceremonies: If there was a special person arriving on board, a special award ceremony for promoted officers, or if an officer had passed away, bells were used to signal the start and end of these events.
Victory: One of the best-sounding and most favored bells was the victory bell. When the unit had performed well, taken down an enemy, or completed a big goal, a victory bell was rung to celebrate.
Irve Le Moyne's Victory Bell
Irve Le Moyne was a rear admiral for the U.S. Navy and sought help at the MD Anderson cancer facility in the 1990s. He was diagnosed with head and neck cancer and was undergoing radiation therapy for his cancer. Irve was motivated that he was going to beat his cancer and let his doctor know that when he did, he was going to use the tradition of ringing a bell to let everyone know that he had made it to victory like they did in the Navy.
True to his word, at his last treatment, Ivan had brought a brass bell. Once he was cleared at that treatment, he rang it multiple times. He did not take it with him and instead donated it to the facility. This bell is still mounted on MD Anderson's main treatment center's wall with the following inscription:
Ringing Out
 Ring this bell
Three times well
Its toll to clearly say,
My treatment's done
This course is run
And I am on my way!
      — Irve Le Moyne
As more and more patients and doctors learned about the bell's ringing, its popularity grew throughout other cancer units. Every unit would ring the bells and read the poem out loud. It quickly became a regular occurrence around the country because once other clinics heard about the bell ringing ceremony, they followed suit and installed brass bells onto their walls.
Other clinics, such as the Stanford Cancer Center, wrote a second poem by an unknown author that sits alongside the "Ring the Bell" poem. Patients will often read both poems once they finish treatment. This poem reads:
I ring this bell for myself and every other
 cancer patient that has, or is, or will walk the
 journey that a cancer diagnosis brings.
I ring this bell for my caregivers, family, friends,
 and perfect strangers who have given time, talents,
 prayer and encouragement on my behalf.
I ring this bell for each employee that works within
 these walls … thank you for the compassionate
 care you choose to give each day.
My praise and thanksgiving is for each of you
 and to God, the giver of your life and mine.
I ring this bell, I ring this bell, I ring this bell for you!
Traditions with Meaning
Ringing the bell at the last appointment is a very emotional and meaningful part of a patient's recovery. It signifies a celebratory moment and an important milestone on their cancer journey. Many patients are not alone during the ceremony. They are often accompanied by nurses, doctors, as well as friends and family. Tears, smiles, and hugs usually accompany this ceremony.
It's common for cancer survivors to receive brass bells as gifts from family, friends, or loved ones to signify the end of their treatment process, in addition to ringing the bell at the clinic. They can be small tokens that can easily sit on a desktop or larger bells that draw attention as you walk past. The bell is a reminder of what the patient went through and how hard they worked to finish their treatment.
While it might not mean the end of their cancer treatment, it ends their specific journey at that cancer facility. Sometimes cancer patient treatments are a combination of radiation and surgery, and they will still need to go to another facility to receive additional treatment. While others may have their cancer return and need more cancer treatments.
Regardless, the process of ringing the bell inspires hope and excitement in the patient who is ringing the bell. The bell provides a feeling of accomplishment and pride for all they went through. It's a day that no patient ever forgets, and the bell creates a beautiful memory to accompany a significant event to help to give it the respect it deserves.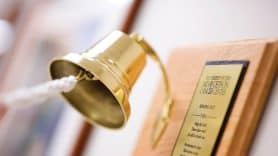 What should I Engrave on my Cancer Bell?
An ongoing list of end of treatment bell quotes we have engraved on thousands of bells ordered in the last 30 years.  Get ideas for what you can say when someone finishes treatment.
Read More: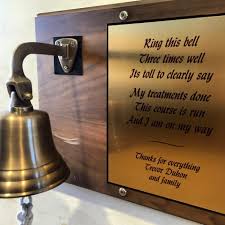 Should the Cancer Bell be Moved Home?
Experts are beginning to wonder if there are disadvantages to ringing the cancer bell.  This has launched a trend to move the bell ringing ceremony home.
Read More: